The Comeback
The Renewed Life and Times of Alge Crumpler
---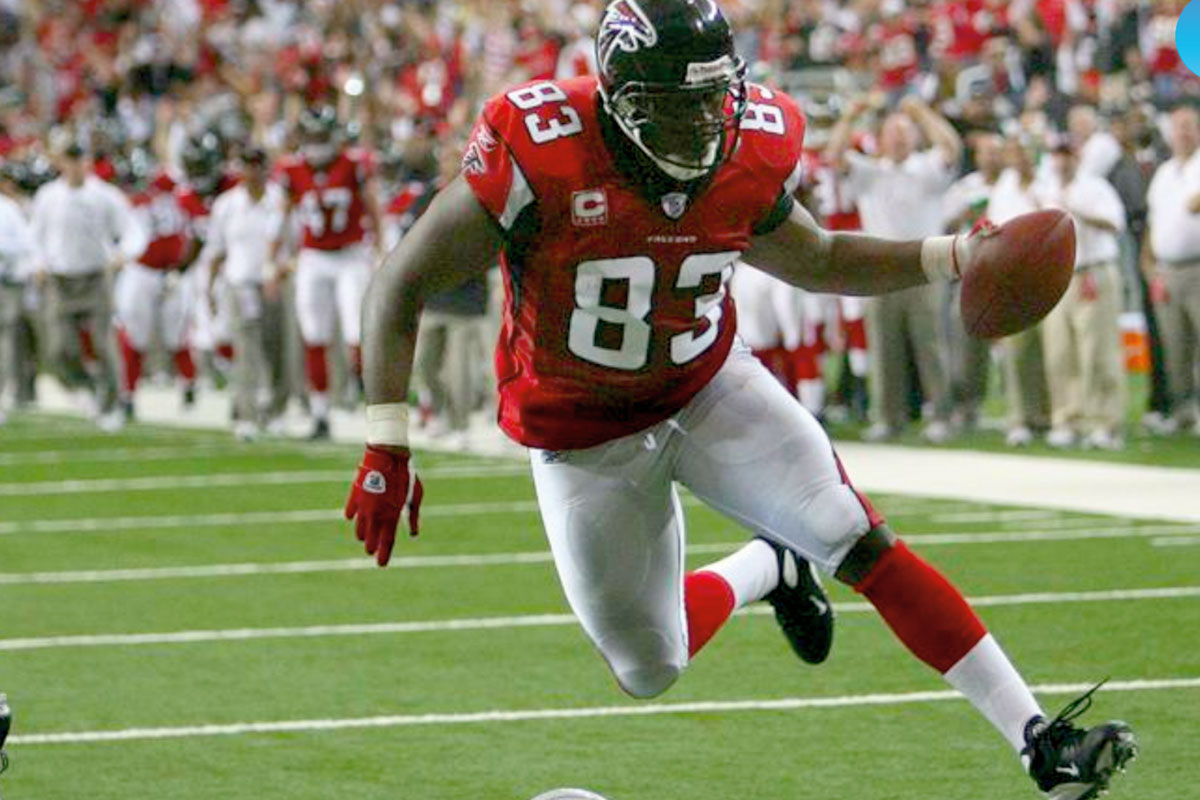 AFOUR-TIME NFL ALL-PRO TIGHT END WITH A CAREER SPANNING A DECADE WITH THE FALCONS, PATRIOTS, TITANS AND JAGUARS, ALGE CRUMPLER WAS A LEGEND ON AND OFF THE FIELD.
Crumpler, 44, built a reputation as a leader at his position and a leader among his teammates. Like many elite athletes, he struggled to make the transition from the field to post-professional-play life. The dream of NFL glory, the support of teammates, and the help of pro trainers provide athletes with the structure to maintain peak physical shape. In particular, the regimented structure of the league is paramount in helping athletes maintain their laser-like focus with workouts, nutrition, and communication.
AFTER FOOTBALL, THERE WAS NO ROUTINE TO FOLLOW, NO POSITION TO COMPETE FOR, NO SUPER BOWL TO AIM FOR. CRUMPLER LOST THE MOTIVATION TO EXERCISE, AND FOOD BECAME HIS COMFORT.
Crumpler spent more than 20 years keeping his body in peak condition. He was at the top of his game throughout high school in Greenville, North Carolina, and college at the University of North Carolina at Chapel Hill.
After Crumpler got to the NFL, he was consistently taking part in highly structured training routines, with strong coaching and a support system to optimize his performance. 
Life after professional sports
After football there was no routine to follow, no position for which to compete, no teammates to collaborate with, no Super Bowl to aim for. In short, he lost his motivation.
His body ached, he stopped exercising regularly, and food became his comfort.
Without the discipline of a regimen and a team, Crumpler gained weight fast. Mounting health concerns exacerbated by his condition left him struggling, insecure, and unhappy.
He disconnected from his family, preferring to stay at home, missing family vacations and activities.
For an NFL legend beloved by teammates and fans, this was not what he envisioned for his retirement—physically or mentally.
"It felt to me like he was that guy that was drowning," says Rich McKay, president and CEO of the Atlanta Falcons. "He didn't really know how to help himself." 
Facing the truth
Crumpler's teammate Warrick Dunn experienced the same pattern with many players of his generation.
"All players are going to have transitional issues, because once you leave the game of football, there's nothing else you can do in life that gives you the same high," says Dunn.
Former professional players can be prone to significant weight gain, while also experiencing chronic pain, hypertension, blood sugar irregularities, and sleep apnea. 
Crumpler had all these ailments, and his most critical health metrics were slumping. "I was afraid to go to the doctor to get a checkup," he says. "I didn't want to know what was happening to my body. You know, that fear of the unknown." 
During a routine meeting between the Falcons and Emory Healthcare, the team's official health care provider, Crumpler's situation was discussed, and the idea of a health program designed for him came about.
Tameka Rish, a Falcons executive and longtime friend of Crumpler's, knew Emory Health- care could help Crumpler and others like him.
"I WAS AFRAID TO GO TO THE DOCTOR TO GET A CHECKUP," SAYS CRUMPLER. "I DIDN'T WANT TO KNOW WHAT WAS HAPPENING TO MY BODY.YOU KNOW, THAT FEAR OF THE UNKNOWN."
"They could use their expertise to create a case study and documentary following him through the process," says Rish. "Then, when we got to the other side, not only would we have a story to tell, but I truly believed we would change his life."
Together, the Falcons and Emory Healthcare approached Crumpler with the concept to help him get his mental and physical health back on track— and, most important, a concrete plan he could follow.
Faced with a potentially life-threatening situation, Crumpler embraced the opportunity.
A team approach
Emory Healthcare has provided the Falcons' official team physicians for many years. As the most comprehensive academic health care system in Georgia, Emory Healthcare is a strong collaborator with Falcons players through every aspect of care on and off the field. Scott Boden, director of Emory Orthopaedics and Spine Center, was asked to assemble a comprehensive and integrated team of physicians to help Crumpler.
"Medicine nowadays is a team sport," says Boden. "That's why we invited a number of people from different specialties to join the team, each with a specialty to help Alge through his journey."
Crumpler met his 'dream team' for the first time in 2018, sharing his story and medical history to help the care team craft a plan. Then he kicked off his game plan by doing something he was afraid to do earlier—get- ting a comprehensive checkup and analysis by a primary care physician. 
Throughout his journey, Crumpler was treated by experts providing highly specialized care for the unique health issues of a former NFL player. Specialists in endocrinology, primary
care, orthopaedic sports medicine, psychiatry, and cardiology were part of the team.
The doctors gave Crumpler a regimen to follow and helped him stay on track.
Crucial support
Crumpler joined a kickboxing gym near his home and started working out regularly with a former teammate, Chris Croker. Crumpler shed nearly 60 pounds in the first 100 days. 
"He is very competitive," says Crumpler's wife, Jen. "When he sets a goal, he's going to hit that goal because he doesn't want to tell anybody he didn't reach something he was going for."
But two years into his transformation, COVID-19 caused a backslide. Reduced access to the gym and a fallback to a more sedentary lifestyle, along with knee pain, resulted in adding back 30 pounds.
Leaning on his family and social network for support to get through the setback helped, but it wasn't easy. He relied on his relationships as well as Emory Healthcare to get back on track. "Without those previous relationships, I'm not sure that would have happened," Crumpler says.
The results
Four years have passed since the Falcons, Emory Healthcare, and Crumpler teamed up to change his life. After all that time, he still impresses his doctors with his drive and motivation.
"I'm glad I'm committed to a routine at this point in my life," says Crumpler. "My health matters, and I'll continue to work. I know that."
Crumpler has a healthier out- look on life and is much more fit. Most important, all his dangerous health metrics have turned from red to green. 
"I think it's safe to say if Alge had not made a decision to take control of his own health and sought collaboration and team- work with Emory Healthcare,
he would've been taken from us at far too young an age," Boden says. "I hope people will look at this and say, 'If he could do this, I could do this.'"
Email the Editor