Curricula
Staying Tech Savvy
---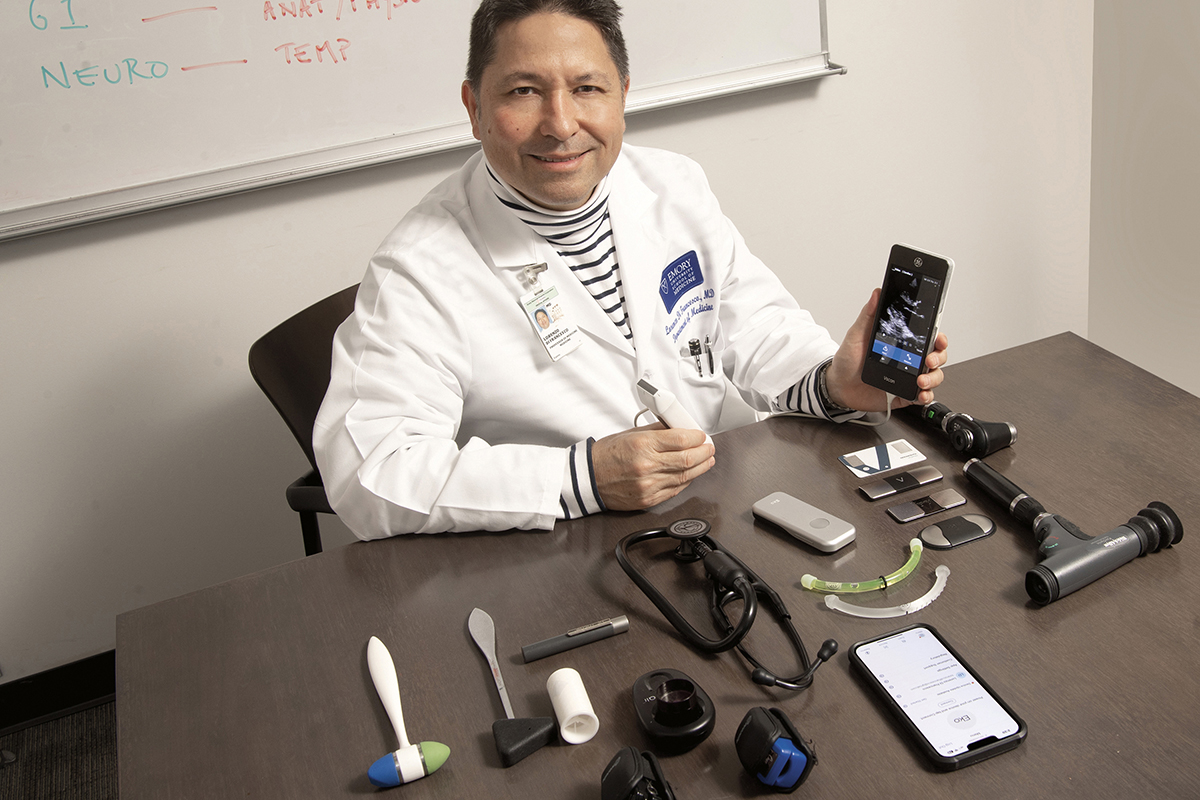 Nearly 10 years ago, Emory internist Lorenzo Di Francesco (above) noticed a shift in the medical community. "The technology world was moving quite quickly," says Di Francesco, a 1993 graduate of Emory School of Medicine. "It was becoming apparent to me as a clinical educator that technology could enhance and boost our abilities at the bedside." 
Wanting to familiarize residents with this ever-expanding assortment of medical innovations, Di Francesco established the Point of Care Diagnostic Curriculum. The program is designed to introduce second-year medical residents to a variety of highly advanced medical devices. Each school year, roughly 60 residents are assembled in small groups to participate in workshop-based learning and moderated discussions. The first half of the workshop introduces devices like the digital Eko stethoscope, which integrates acoustic cardiography and artificial intelligence to detect heart murmurs, and KardiaMobile, a portable device that captures a patient's real-time electrocardiogram (ECG) and displays the electrical activity of their heartbeat on a smartphone. "Advanced point of care bedside technologies can help improve the cost of care," Di Francesco says. "Residents can work at a higher level with lower cost." 
Residents also become familiar with smart- phone- and laptop-based apps from companies like the Binah.ai and Lifelight.ai, which in the near future will allow medical staff to check for vital signs (blood pressure, pulse, respiratory rate, and oxygen saturation) more efficiently with fewer devices, and will even allow patients to capture their vital signs remotely from their smartphones or laptops.
An additional device given to all residents as part of the program is the CVP ruler. Not only is the device unique in its enhanced ability to calculate vertical distance during the cardiovascular exam to help estimate central venous pressure, but the simple pocket ruler was invented by Di Francesco himself.
In the second half of the workshop, residents are introduced to the portable ultrasound, a "revolutionary addition to modern science," says Di Francesco. Another pocket-sized device, it allows a practitioner to work more efficiently by integrating point-of-care ultrasound findings into a basic physical exam, allowing confirmation of many preliminary diagnoses faster.
Alvaro Ceballos, a J. Willis Hurst Internal Medicine Resident and Grady Chief medical resident, took part in the Point of Care Diagnostic Curriculum, and credits the program with better preparing him to ask the right questions at the bedside through the data provided by these devices. "Specific questions can expedite the formulation of a concise and reliable differential diagnosis when data points are added to a well-performed exam," Ceballos said.
"It strengthens the patient-physician relationship."
The success of the Point of Care Diagnostics Curriculum launched an additional device-based program by Emory in 2020; the Distinction in Point of Care Ultrasound, which offers a two-year, in- house program for residents.
Di Francesco will continue to introduce new bedside diagnostic technologies. "We want to emphasize that equipment and devices do matter," he says. "Our goal is to push our doctors to access and apply resources at a more cost-effective level." 
Email the Editor