Virtual Immersion
Envisioning The Future of Nursing
---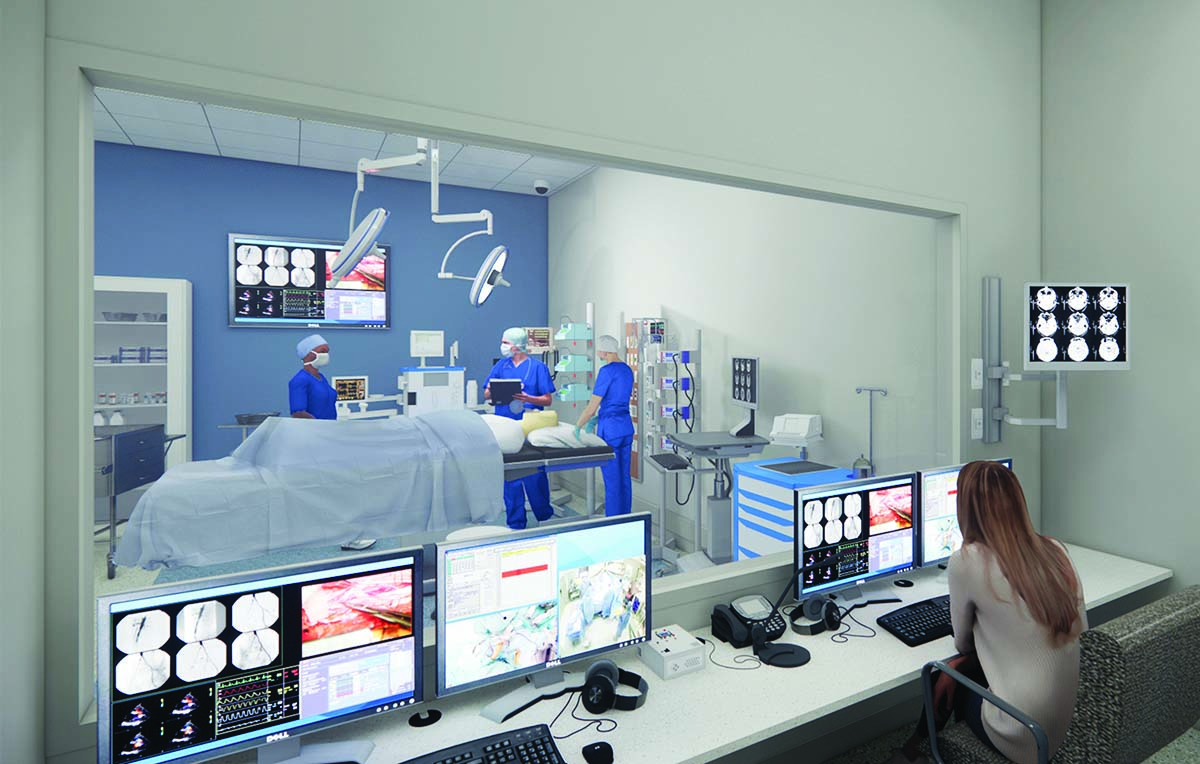 Nurses have come a long way from practicing injections on oranges and each other. Emory nursing students will soon be able to practice treating realistic, complex wounds on mannequins, delivering a baby in a car, and setting up a COVID-19 testing center.
Nursing education has employed simulation as a key mode of training for many decades, though in far less sophisticated ways as today. 
According to the American Nurses Association, in 1911 the first nursing mannequin was a life-sized doll named "Mrs. Chase," which students used to learn how to dress, turn, and transfer patients.
The new Simulation and Clinical Skills Lab that will be housed in the Emory Nursing Learning Center (ENLC) will be a far cry from what Beth Ann Swan experienced as an undergraduate nursing student in Pennsylvania some years ago. 
Swan, executive director of the center for the Nell Hodgson Woodruff School of Nursing, says her school had a skills lab with hospital beds.
Nursing students practiced on each other, conducting assessments and giving injections to oranges. 
"We certainly didn't have anything like the technology we have today," says Swan.
In the 1990s, medical companies began catching up by developing affordable, high-fidelity patient mannequins that were precursors to the ones that medical and nursing educators use today.
When it opens in May 2022, not only will the ENLC's Simulation and Clinical Skills Lab be the largest in Georgia, but it also will be one of the most advanced. The facility will include several simulated hospital rooms populated with high-tech patient mannequins, as well as a re-creation of an operating room, where nurse anesthesia doctoral students will train. 
All of the spaces in the lab will immerse students in clinical realism—psychological, physical, and conceptual.
An integrated audiovisual system will broadcast and record students during their simulated sessions with mannequins and standardized patients. 
"We'll be able to capture and record video in real time and then faculty can use it as a teaching-learning strategy, or as a debrief tool, and students can use it to assess their skills," Swan says.
High-fidelity operating room
Virtual technology is also planned to be a key part of the lab, enabling students to don goggles to immerse themselves in a patient scenario. 
Computerized overlays can be placed on a patient mannequin to show, for instance, a more complicated type of wound.
"When you have high-fidelity spaces that simulate real-world clinical experiences, students are able to have hands-on practice in a safe environment," Swan says. "When students walk into a simulated learning environment, they have the opportunity to practice critical skills in an immersive and dynamic space." 
For Swan, the ENLC is about leveraging space and technology to optimize learning.
Swan is eager for students and faculty to take full advantage of the new space. 
"The School of Nursing," she says, "has an unprecedented opportunity to lead and reimagine the future for nursing education, research, practice, and lifelong learning, ultimately to advance health care delivery for individuals, families, and communities."
The terrace level of the ENLC will provide plenty of clinical skills space—open rooms with several hospital beds occupied by low-fidelity mannequins.
 Four of the rooms will be used by undergraduate students; a larger fifth lab will be dedicated to advanced skills training for graduate students. 
Other teaching spaces include patient exam rooms, procedure rooms, a nurses station, observation rooms, and debriefing rooms where students and faculty can replay videos and use an interactive white board to drill further into a scenario or concept.
While spaces in the Simulation and Clinical Skills Lab will have definite uses, they will also allow for flexibility to inspire innovation and pop-up activities on the terrace level and on the second floor, so that students can practice delivering a baby in a car, assessing meal preferences at a homeless shelter, or setting up a COVID-19 testing center.
"One of the beautiful things about our new space is that it will enable our faculty to be even more innovative," says Carolyn Clevenger, associate dean for clinical and community partnerships. "I fully expect to see a shift in their teaching practices."
Simulating home care
A highlight of the Emory Nursing Learning Center will be a home lab where nursing students can get a more realistic feel for what it's like to care for a senior in assisted living, a mother at home with a new baby, or an older child who has asthma.
The home lab, on the second floor of the ENLC, will resemble a small apartment, with a living room, kitchen, bedroom, and bathroom.
Currently, undergraduate nursing students do "home visits" in the Charles F. and Peggy Evans Center for Caring Skills at Emory's School of Nursing.
 Faculty and staff have transformed a hospital room into an apartment by bringing in furniture, rugs, lamps, and other home accessories.
In one home-visit scenario, students visit a man, portrayed by a standardized patient, who has recently had open heart surgery. He lives alone and is not taking his medication. His apartment is cluttered and not well lit. 
In another scenario, students witness the death of a cancer patient in hospice.
"With the new home lab, students will be able to experience home visits, telehealth visits, home-based primary care, and learn about social determinants of health," says executive director Swan. 
The home lab, and other spaces in the ENLC, will also be an incubator for nursing science.
"It will provide a place where faculty and students—whether they're undergraduates, PhD students, or postdocs—can be inventors," Swan adds. "They can explore the notion of creating a smart apartment or experiment with improving quality of life for the person or population they are working with."
Email the Editor
Share This Story