---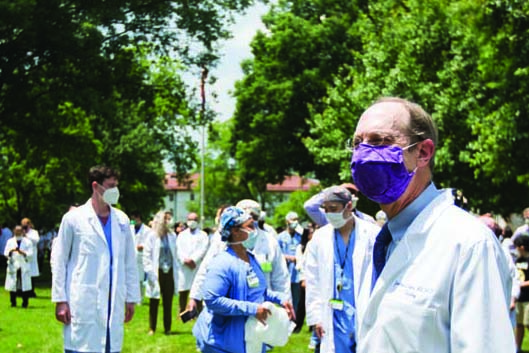 We have passed the one-year mark of the COVID-19 pandemic at Emory, and as I reflect back on a year that has been unlike any other, I am deeply proud of all that the people of the Woodruff Health Sciences Center have achieved. 
Emory has now treated more than 12,000 hospitalized COVID patients, with a survival rate of 92.5%, which is among the highest in the country. Now we're applying the same efficiencies to our vaccination efforts and have administered more than 106,000 doses of vaccine so far, with the number climbing steadily as we (and a host of volunteers) continue to vaccinate thousands of people each day (see p. 36).
Exciting things are happening on the vaccine front in Emory's research labs, from developing effective therapeutics (p. 15) to Emory's own COVID-19 vaccine (see p. 23).
Our health sciences faculty also are leading clinical trials, acting as public scholars (sharing important, science-based information on platforms from CNN to Facebook Live), and helping patients who, although "recovered" from acute COVID-19, are still experiencing distressing symptoms (p. 28). 
Since last March, Emory has received more than $137 million in COVID-specific research funding, $104 million directly from the National Institutes of Health, ranking us No. 3  in NIH awards for COVID research among US universities.
While I'm proud of these and many other stellar results, I'm even more proud of the culture and attitudes that made them possible. From the earliest days of the pandemic, our teams mobilized their resources and expertise to fight this unique threat on many fronts. 
Email the Editor
Share This Story