My grandmother died of breast cancer.
My mom is a survivor. But I never thought I would get it. I'm a man.
By Eric Dunlap
It was 2000 and I was 34, the dad of two young sons, Jordan and Christopher, with my beautiful, smart wife, Felecia. I had always wanted to be a husband and a dad. I loved having breakfast with my sons every morning, coaching the soccer team, and just being there for my family.
| | |
| --- | --- |
| --- | |
| "I was diagnosed when my children were 13 months and 3 years old. I wanted to see them grow up to become productive citizens in the world. That's what I prayed about. A lot." | |
| --- | |
After seeing an old photo on the beach from my honeymoon, I'd decided I was going to get back into shape. I went down into our basement to work out. I completed about 100 push-ups when I suddenly felt an intense, excruciating pain in my chest. I couldn't get up off the ground. I called to my wife who came down and helped me up. I clutched my chest and felt a lump just above my right nipple. That was where the pain was radiating from.
When I went to the doctor the next morning, he asked me how long the lump had been there. I said I had just noticed it last evening. He told me it was a hard mass, and wrote a referral to see a surgical oncologist immediately. Immediately. That's when I became concerned.
The next day, I had a needle aspiration. Three days later the doctor confirmed that I had breast cancer. I was young, didn't smoke or drink, and was in decent shape—I'd never even had a cavity. And I was a man. How was this possible? "Are you sure you don't have the wrong file?" I asked.
He told me it was very rare in men, but it happens. Because I had exercised so vigorously, my chest muscle pressed against the tumor, and the tumor pressed against a nerve. The pain alerted me to the problem. Most people never feel breast cancer; there is no pain.
My mother had been diagnosed with breast cancer four years previous, and her surgical oncologist, Toncred Styblo at Emory's Winship Cancer Institute, and I had developed a rapport. I trusted her and chose her to be my doctor. I was diagnosed with stage two breast cancer, since the testing showed that the cancer was in my lymph nodes.
I had a radical mastectomy and simultaneous reconstruction. They removed all the breast tissue on my right side and then extracted muscle from my back and put it in my chest so it would be symmetrical.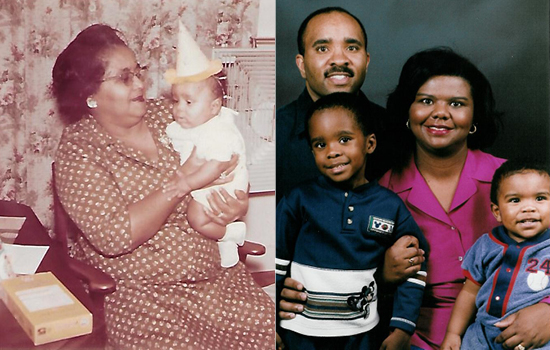 Eric Dunlap now speaks for the American Cancer Society, keeping a promise he made to his grandmother (with baby Eric, above), and Eric Dunlap with his family around the time he was diagnosed with breast cancer.
---
During my recovery, my youngest son, Christopher, would ask me to pick him up. After surgery, I could not. I would lie down on the floor and let him climb up on me for a hug.
Next, I endured six months of chemotherapy.
It was difficult to find men diagnosed with breast cancer. The actor Richard Roundtree, who played Shaft in the 1970s, was one. He had been hesitant to talk about it for a number of years, afraid that it would hurt his chance to get roles. Does breast cancer take your tough-guy edge away? In reality, it makes you tougher.
My grandmother, my nana, died from breast cancer when she was 55, in 1974; it had metastasized rapidly. She was the best grandmother in the world. She could cook anything and made you feel important and loved. She had a radical mastectomy, and her chemotherapy was horrible. She was in hospice and receiving morphine for the pain. I was 7 years old and, holding her hand, I told her, "One day, I'm going to do something about cancer." She opened her eyes and looked at me and said, "I know you will."
When my mom was diagnosed, I had a flashback of what nana went through. My mother was 55 as well. She beat breast cancer twice: once before I was diagnosed, and then 10 years later in the other breast. She taught me how to fight it.
As guys, we're preconditioned to dismiss things. And many physicians don't think of breast cancer right away with men because the percentages are low.
I think about my sons, who are now young men. I want them to always get checked out.
Now Chris is 19, and Jordan is 22. Not only did I see my sons graduate from high school, they both graduated with honors, and Jordan just graduated from Georgia State. I didn't know if I was going to be here to see those milestones. My mom's birthday was on Thanksgiving last year; she is 76 and remains active.
I give lectures to universities, the media, physicians, churches, and patients. For the past 18 years, I've worked with the American Cancer Society's speakers' bureau to increase awareness and raise funds. I guess I'm keeping that promise to my grandmother.
Private philanthropy enables our physicians and scientists to search for cures and care for patients. To support Winship Cancer Institute at Emory visit winshipcancer.emory.edu/support-winship/give or call 404.778.5175.